Help seniors stand up easily
6 points massage with 5 vibration modes
Sturdy structure withstands up to 340 lbs
150-degree reclining sleeping position
5-year warranty
The Benefits of Lift Chairs
Having a power lift chair in the home can be extremely helpful for anyone with mobility challenges. Power lift chairs can make it easier to rise out of a chair from a sitting position or to sit down from a standing position if mobility issues cause pain or lack of muscle strength during this activity.
Reduce strain when standing and sitting
Promote circulation
Aid recovery
Providing a feeling of independence
Posture support
Easy for transfers to stand or transfer to wheelchairs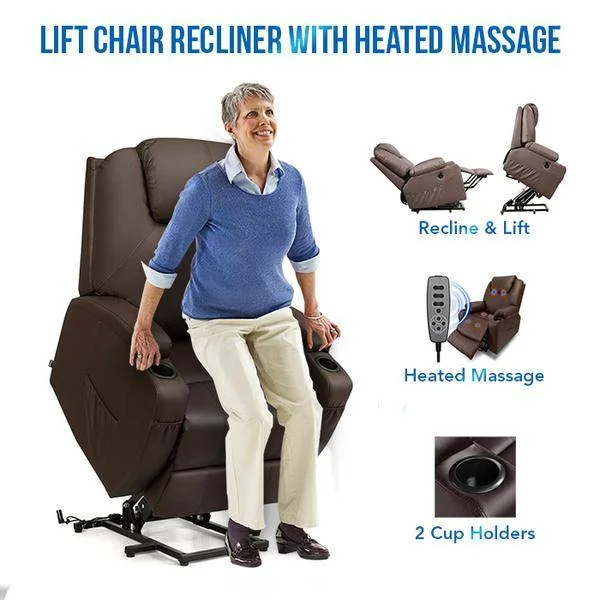 There are a variety of reasons why you would consider a lift chair in your home. The ability to remain independent is an essential aspect of each one's quality of life. Aging people often need assistance to stand up from a seated position. To name a few would be arthritis of the hips, knees, or even shoulders to help you when standing. Others may have to do with circulation problems, back pain that hinders your movement, and as we age, it can simply be a weakness. Patients who may be recovering from an illness or an operation might also temporarily need assistance from a seated position.
What Can A Lift Chair Do?
Lift Chairs provide a stable way to help you get up and down after resting in your chair. It also saves on the pulling of your body by an aide or family member when helping you to stand. The lift chair has a remote that can lay the chair down for you to sleep, read the paper, or relax. It also has a button that raises the back of the chair so it raises the hips over the knees to an almost standing position. Now that you are almost standing, you just straighten your back and you are ready to walk. Without a lift chair, people who are dependent most often have to rely on others, and wait until they can be assisted.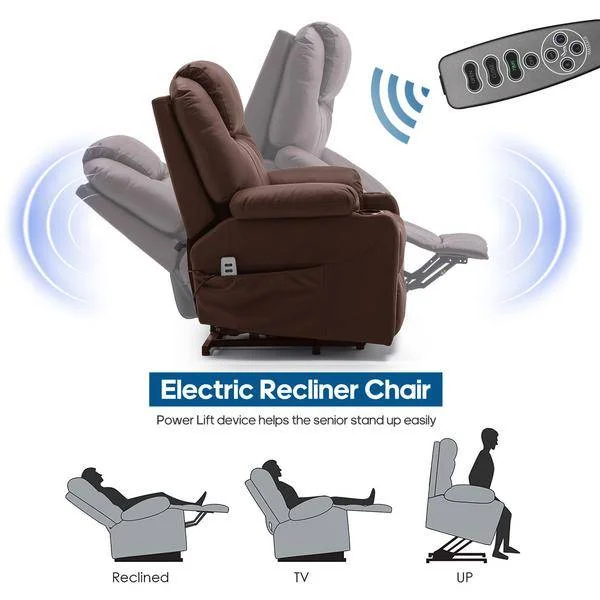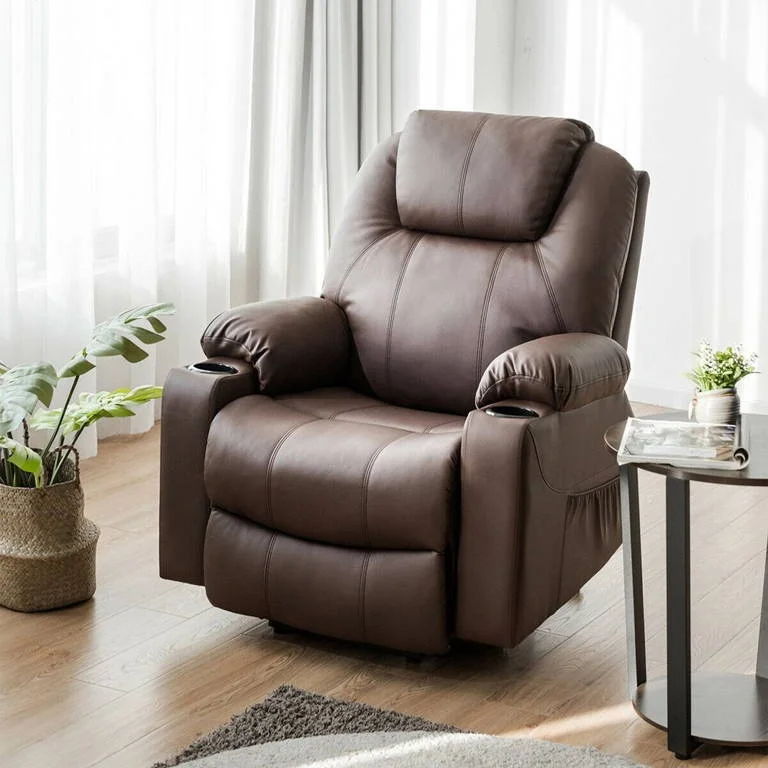 What Do Experts Think About Lift Chairs?
Studies have even shown that lift chairs, while assisting in movement, can maintain muscle tone, due to the reduction of lower skeletal joint fatigue and degeneration. Research has also shown that they can reduce pain and increase comfort. The most significant benefit of a lift chair is that it can reduce the risk of injury, as the person can stand on their own, or able to attempt to transfer to a standing position with support.
The electric-powered lift mechanism of this lift recliner could lift you smoothly and safely. Our power lift chair reclines up to 150 degrees, smoothly adjusts to the lift or reclining position you prefer with the remote control which is easy to operate for people of all ages. Control buttons on the arm activate transitions between reclining, sitting, and lifting and can stop at any position in-between with ease. Our lift chair is functional for optimal comfort, perfect for reading, sleeping, or napping with a retractable footrest and adjustable backrest.
Quick lift mechanism helps the senior stand up easily
6 points massage with 5 vibration modes
Durable and sturdy structure withstands up to 400 lbs
The perfect 150-degree sleeping position
5-year warranty
CE certified and met international safety standards
Overstuffed backrest and seat offer exceptional comfort
2 side pockets and 2 cup holders for convenient use
Wear-resistant PU vegan leather that can last 20+ years
Sturdy construction & silent motor
Anti-back tipping and ergonomic design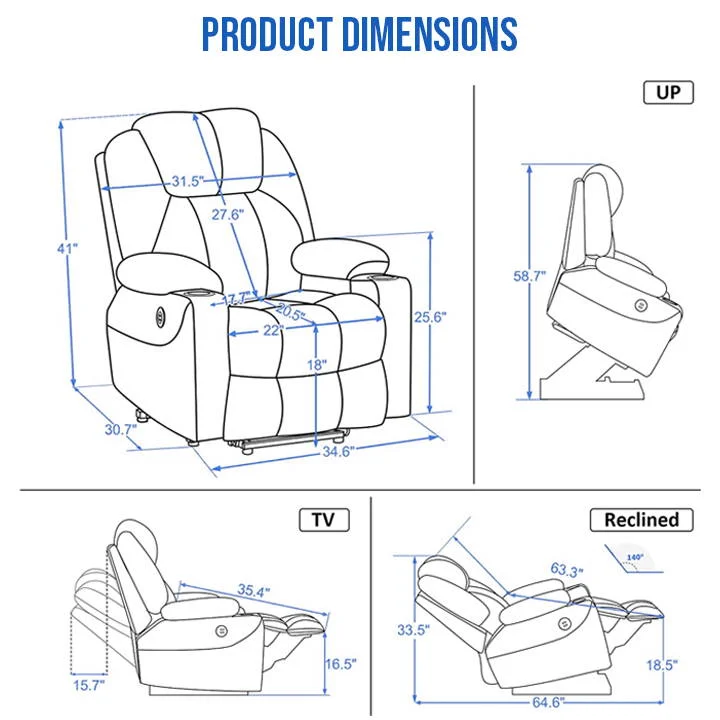 Material: PU Vegan Leather + Metal + Sponge
Net weight: 105 lbs
Overall dimension:  34.6″(W)x30.7″(L)x41″(H)
Seat area: 22″(W)x20.5″(D)
Seat Depth: 20.5″
Seat Height: 18.5″
Maximum Length:  64.6″
Minimum distance to wall: 15.7″
Cup holder height: 2.5''
Load capacity: 400 lbs
Cord length:  6'5″
Motor voltage: 110V, 50/60Hz
Ideal User Height: 5 to 6 feet
Assembly required: Yes
Package includes: 1xPower Lift Chair, 1xRemote Control, 1xPower Plug, 1xInstruction
Note: Your chair will come in 2 boxes to avoid damage during shipping, and we've them shipped on the same day, but the carrier may deliver them to your door on different days.
Shipping & Returns
Delivery, setup, and packaging removal included. Setup is following manufacturing guidelines so the product is ready for the intended use.
Walmart.com products can be returned to any of our more than 800 Walmart warehouses worldwide.
SHOP CONFIDENTLY
We are committed to offering the best value to our members, with a risk-free 100% satisfaction guarantee on both your membership and merchandise. If you have questions about your membership or products you've purchased at Walmart, please visit the membership counter at your local Walmart or Contact Customer Service.
View Walmart's Return Policy
For manufacturer warranty information, please contact us.
Walmart Concierge Services | Technical Support
Free technical support exclusive to Walmart members for select electronics and consumer goods.
How To Return Walmart.com Orders